Binaron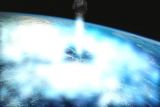 Complex of devices capable of melting mining waste and cosmic dust and integrating it into planet's surface. This increases the size of the planet and creates a surface suitable for Nekrons.
This technology really increases the planet's size! one batch adds 95M km3 of land (do not mistake volume with radius or circumference). ATTENTION! Increasing the planet's size can be extremely expensive and is even more as the planet grows.
Only one building is needed!
Binaron

| | |
| --- | --- |
| Komplex | Hi-Tech |
| Staví rasa | Nekroni |
| Cena | 26 Lt |
| Zastaví pevninu | 50 000 km2 |
| Zaměstnanců | 600 osob |
| Potřeba energie | 50 GW |
| Vyrábí | Výstavba planety |